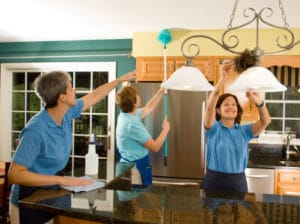 Many years ago, around the time of the beginning of the residential cleaning industry, there was no maid service software available to manage such businesses. There were one or two franchises, like Merry Maids, for example, who engaged some programmers to write software specifically for their franchises. This was a real advantage to signing up for a franchise, knowing it could be run efficiently and effectively.
In the mid-1980s, a few individuals and smaller companies took on the task of writing software for a variety of cleaning service businesses – including window cleaning, floor cleaning, carpet cleaning, commercial cleaning, and of course residential cleaning, or maid services.
Each one of these segments of the cleaning industry has somewhat different needs. The software needs to cater, as far as possible, to the specific needs of the industry segment the service business software developer was targeting.
One of the first programs developed at that time was The Cleaning Manager, developed by Murray Gordon of Abraxas Computers. Murray had originally written the software for one user, who suggested to Murray that he try marketing it to the cleaning industry in general. It had saved his cleaning business a huge amount of money and enabled him to run four separate businesses from one central office. The software included features to keep track of complex job and employee schedules in an exclusive summer resort in the United States.
Murray demonstrated the software, the first example of a professional maid service software program, at a trade show in Atlanta and was expecting a flood of purchases. However, many other cleaners at that time were not familiar with computers and software solutions. At that time, a personal computer still cost several thousand dollars and not everyone felt they could afford one. However, the fact was they had not yet realized how this new technology could make their businesses run more efficiently, with less people, thus saving thousands of dollars a year.
The computer alone was not very much use to the business owner. It was the hardware combined with suitable software which could make employee and job scheduling tasks easier to manage. It was now possible to keep track of job schedules and all details of a customer's special requirements as well as how much each customer owed for each job!  Some cleaning business owners had purchased computers and used spreadsheets – like Lotus 1-2-3, which was popular at the time, to keep track of customer information and job appointments.
The new maid service software, however, combined all of the essential business processes in one program. You could keep track of all your customer information, including billing and work addresses, phone numbers etc. You could also specify, for each customer, what type of cleaning they wanted, at what frequency and for what specified cost. When a job was completed, you could record who did the job, generate an invoice and update the customer's account balance.
Several other features, designed to help the residential cleaning business owners become more efficient were added over time setting the standard for software for residential cleaning businesses and within a year or two many maid service business owners were purchasing the software and implementing it in their businesses.
Many of the business owners who purchased The Cleaning Manager, whilst it was still a DOS program, were very impressed by it. One company in Boston decided the software was so fantastic they would put aside their maid service business and simply begin selling the software. Eventually, they surprised many in the industry by attempting to have their own software written.  This initial software was amateurish compared to the Cleaning Manager. They managed to sell their solution to several business owners. They also launched a new maid service franchise and sold their software to all franchisees as part of their franchise package.
Another one of Abraxas's  customers also copied the idea behind the original maid service software and launched a maid service franchise operation with their own new software forming an integral part of the operation.
Microsoft improved their Windows operating system in the mid-90s  Windows 95 was a great advance on the previous Windows system and it was quickly adopted by PC users throughout the U.S. as well as other parts of the world.  At the same time, new software was developed and released to take advantage of new features Windows offered such as the ability to have more than one task running at a time, the ability to have multiple windows open at one time, and so on.  Windows also offered an interface, which was easier for users to navigate. A user could use the mouse to click on icons representing the programs they wanted to run. Many of the features that are now familiar to Windows users were first made available in Windows 95.
Along with the new operating system came the need to develop new software. Companies began creating entirely new software offerings that would run in the Windows environment, thereby creating a new class of Windows software products.
As the years went by, Microsoft released new and improved versions of Windows – Windows 98, Windows 2000, Windows XP and so on, while PCs were becoming more and more powerful and less and less expensive. The computer revolution grew by leaps and bounds. The combination of increasingly sophisticated and robust operating systems and faster and more powerful hardware enabled further improvements in service business software like  Scheduling Manager. Today, any business owner can take advantage of advanced software technology to realize increased business and process efficiencies through its use.
The next wave of  efficiency to be introduced through technology is mobile. Mobile job scheduling and field service management is a natural evolution as everyone is seemingly connected via a mobile phone or tablet. Employees can be notified of their jobs, access customer info, maps and directions and then quickly update or complete activities remotely via their mobile device. Quicker, more accurate updates mean quicker billing, payment and accounting.
Maid service and other cleaning business software will no doubt continue to evolve with the needs of each industry and the interest of business owners in realizing any additional efficiencies technology can enable.
The interested reader may want to take a look at the latest maid service software offering, Scheduling Manager Gemini, from Thoughtful Systems.