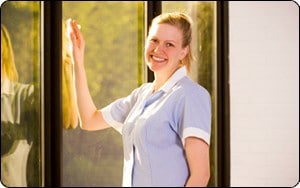 What should you look for in a software that will help run your maid service business more efficiently and profitably while maintaining the highest standards of customer care?
Your scheduling, sales, employee management, and accounting all work seamlessly together. This frees you from tedious and time-consuming tasks of entering the same information into different software packages.
With Scheduling Manager software you enter information once only. No need for multiple software programs, which create inefficiencies and can lead to errors. When you complete a job, an invoice is created, time spent by each maid on the job is recorded, payroll is calculated, and the amount paid by the customer is recorded. An optional interface with QuickBooks is also available.
The software allows you to create job schedules for any period you choose, and you have the option of changing individual jobs in a series as the need arises.
Scheduling Manager software for maid service businesses includes 8 different interactive job scheduling screens  to easily add jobs, view data, change and complete jobs. You can create schedules to automatically add jobs to the calendar for you with a variety of different frequency options including weekly, bi-weekly, monthly, annually, and more! You can also easily change individual jobs, or make changes to entire schedules.
Efficient Employee Management
The scheduling software allows to group your employees together into teams to make your scheduling tasks easier. Teams can be changed on a daily basis, or for individual jobs.
In the Scheduling Manager, you can also group teams together into Team Groupings — one group for each geographical area, for example. Or one team group for each major type of work that your service business performs.
Scheduling Manager for maid service businesses also provides a useful Preferred Employee feature. It allows you to specify for each customer if they have a preference for employees. You can also use the Preferred Employee tool to mark an employee that should never be scheduled for this customer.
Comprehensive Customer Relations Management (CRM) Features
Your service business management software should have CRM features built in, including methods for tracking leads and customers and sales funnel statistics.
Scheduling Manager provides extensive CRM tools, such as sales reports and tracking, email campaigns, and automatic customer reminders. Also available is an optional interface to Infusionsoft, a leading marketing and sales enhancement software program. Thoughtful Systems has also  recently added an interface to Salesforce.
[button href="/software/sm-download-form/" caption="" advanced_class="demobutton"]Take a Quick Tour[/button]