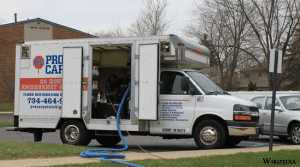 Thoughtful Systems' Scheduling Manager software for carpet cleaning businesses provides you with the best solution for all your marketing and sales efforts. Our Scheduling Manager software fully integrates marketing and sales with scheduling, customer relations management, estimates, accounting, inventory tracking, and many other necessary tools for running a carpet cleaning business.
All in formation about your customers and sales leads is integrated in one place 
All contact information, multiple location data, and jobs and account history are easily accessible.
Send regular mailings to customers and leads advertising your services
The Mail Merge feature assists you with everything from creating labels to printing flyers for your prospective customers. You can use one of our pre-defined mail merge documents, or create your own using Microsoft Word.
Providing free timely estimates is crucial for lending the carpet cleaning job
Create and send estimates to sales prospects and customers.
Create yor own settings for various charges for services
Choose tfrom multiple estimate styles
View, print or e-mail estimates to customer or prospects with ease!
The variety of marketing tools available with the Scheduling Manager for carpet cleaning businesses help you get new clients and market new services to existing clients. These increased efficiencies allow your carpet cleaning business to focus on growth and maximize opportunities in marketing, gaining new customers, and lead generation.
Scheduling Manager is used by hundreds of carpet cleaning businesses in the United Sates, Australia, Canada, the U.K. and elsewhere. Our carpet cleaning business clients include companies such as Ecologic in Boston, and other members of the Millicare network.