QuickBooks Online Sync Utility
QuickBooks Online Sync Utility
The QuickBooks Online Sync Utility is a convenient data sync link serving to exchange data between QuickBooks Online and Scheduling Manager.
If you are already using QuickBooks Online, you can transfer your customer information from QuickBooks Online to Scheduling Manager in a matter of seconds. This makes it quick, easy and efficient to start using Scheduling Manager in conjunction with QuickBooks Online.
When you add a new customer to Scheduling Manager, or edit an existing customer's information, you can send these changes to QuickBooks Online with a click of the mouse.
Similalrly, when you add invoices or payments to Scheduling Manger, that information can readily be transferred to QuickBooks Online through the use of our Sync Utility.
Another type of information that is synced are the service items n QuickBooks Online.  These are transferred seamless to Scheduling Manager, where they create work codes.  Any work codes added or modified in Scheduling Manger are similarly sent to QuickBooks Online.
The QuickBooks Online – Scheduling Manager Sync Utility interface thus eliminates any double-entry, saves you time an makes your operation more efficient.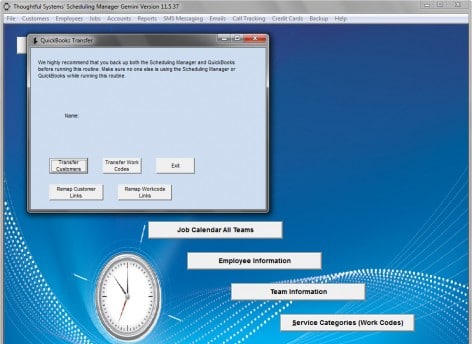 This feature can be purchased as an additional module.