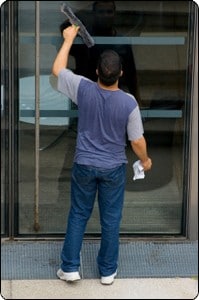 While some people might think that window cleaning is a low tech business, those who manage a window cleaning business know that, in order to succeed, they need to automate their administrative tasks and scheduling, improve communications and customer service and be able to market one's services effectively. Good business management software, designed for service businesses, like window cleaning should be able to help you grow and succeed in these three key areas.
The Scheduling Manager for window cleaning businesses is available as a desktop (installed) program or as an online web-based program. We also have a mobile app, SM-Mobile, which allows employees to see all their jobs, and to get directions, create invoices, accept payments and much more, right on their mobile devices. SM-Mobile is a native app (not a web based app which needs constant internet access), and runs on either Apple or Android devices.
Jobs-At-A-Glance
Jobs At-A-Glance feature allows you to quickly see your customer's upcoming jobs and their job information all from the Customer Information screen.  When your customer calls, you can look them up and see their job history and future jobs in a matter of seconds!
Payments and Credit Card Processing
Another time-saving and organization-effective feature of our mobile service business software. The mobile user can process credit card transactions in the field.
The employee in the field can record amounts paid by the client, whether in cash, by check or by credit card. And, if the customer chooses to pay by credit card, the card can be immediately processed in the field, ensuring that you receive payment for the valuable window cleaning services that you provide.
Intelligent Marketing Strategies
Find out which areas of your window cleaning business bring the most profit and focus your marketing on those. Send out flyers and bulk emails and stay in touch with your customers with automated reminders and special offers. Our flexible customer management and marketing tools allow you to view and control either customers, or leads, or both. One person can be dealing with your current window cleaning customers, while another person can be viewing leads, calling and/or e-mailing potential clients, keeping notes on progress, and using other tools to aid in closing more sales.
 [button href="https://www.thoughtfulsystems.com/software/scheduling-manager/feature-list/" caption="" advanced_class="demobutton"]See Our Full Features List[/button]