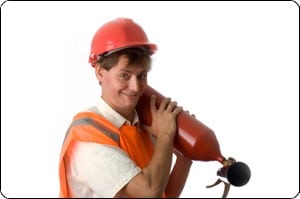 With Scheduling Manager software you can always provide the best service and keep your business profitable.
Equipment Tracking and Maintenance
You can record where your equipment is at any time with our Equipment Tracking Module. Suppose you leave some equipment on site, all you need to do is simply record it in the Equipment Module and set the length of time to leave it on site to receive an automatic reminder for retrieval. You'll always know where your fire extinguisher maintenance assets are with the Equipment Tracking features.
To make the feature as useful as possible, we gave you the ability to keep records of inventory parts used and maintenance performed on each piece of equipment.
Customer Relationship Management (CRM)
Our Customer Information Screen allows you to view and control either customers, or leads, or both. One person can be dealing with your current fire extinguisher maintenance customers, while a salesperson can be viewing leads, calling and/or e-mailing potential clients, keeping notes on progress, and using other tools to aid in closing more sales. These powerful CRM features can pay for the software by providing better customer service and closing more sales.
Mobile Access
Each of your fire extinguisher maintenance technicians can check their work schedule and client notes with our mobile app, SM-Mobile. With this app, your employees can take notes, complete jobs and edit estimates from the field to add additional line items or requests. From the field, each technician can take job-related photos, record client signatures, produce invoices, and receive payments. The GPS tracking feature will provide routes displayed on their mobile device so they can move quickly to the next job. SM-Mobile is available for iOS and Android devices.
 Reminders
Use the Reminders Feature to remind you or anyone else in your organization to call someone, or respond to a complaint, or any other task. A very helpful aide to the user who wants to get the maximum out of the software for marketing purposes as well as for general organizational efficiency.
From a Satisfied Customer

"Thoughtful Systems has helped us increase efficiency and lets us keep all of our information in one program, and all data is readily accessible. Scheduling Manager's management analysis reports are very useful in showing us which services are generating the most revenue. The payroll tools are also a great time saver. We find that it's really great at helping us stay organized in our business."
Mandy Kober, R M Fire, Opelousas, Louisiana
[button href="https://www.thoughtfulsystems.com/software/scheduling-manager/feature-list/" caption="" advanced_class="demobutton"]See Our Full Features List[/button]